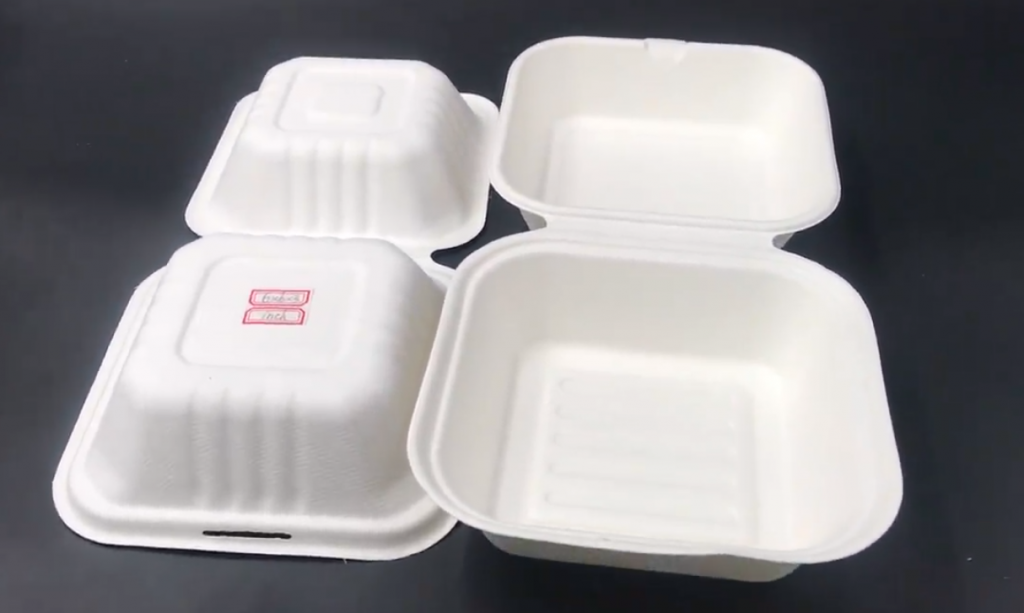 Biodegradable food containers wholesale, By using environmentally friendly restaurant supplies as a substitute for foam products and other non degradable products, you will be closer to a more sustainable business. Our products are more environmentally friendly than wheat stalks, and can be heated by microwave oven with sugarcane stems as raw materials. The main products are markets, Malaysia, the United States, Canada, India, etc.
Why use compostable takeaway disposable wholesale food containers?
Whether you store an eco-friendly coffee shop, coffee shop or catering service, we have a variety of 100% compostable and biodegradable food and delicatessen takeaway containers.
Our selection of wholesale environmentally friendly takeaway containers provides restaurants with green alternatives to traditional polystyrene foam packaging. Many cities are implementing a ban on disposable foam food containers, which meet these requirements.
In any catering service or hotel facility, a large amount of garbage is produced through simple daily work. By using environmentally friendly restaurant supplies as a substitute for foam products and other non degradable products, you will be closer to a more sustainable business, and you will help to exclude hazardous substances from landfills.
What is a biodegradable container?
In order to make packaging products or materials biodegradable, they must be completely decomposed and decomposed into natural elements within a short period of time after treatment – usually one year or less. Biodegradable materials include corrugated cardboard and even some plastics.
Are to go boxes compostable?
Compost dirty containers. Dirty cardboard takeout containers can be composted in your backyard.
Can you microwave compostable containers?
Before putting food in the microwave oven, be sure to put it on a plate or other safety container. Fiber harvesting containers are not recommended for microwave ovens. They are both natural and compostable. Paper products should not be put into microwave ovens because many of them are coated, sealed or glued together to keep them together.
What is compostable food packaging?
Types of compostable food packaging. There are many different types of compostable packaging available for food. The compostable material is made of sugarcane and corn starch. These materials decay completely, leaving little minerals or other materials.
Advantage
100% compostable and biodegradable
Leakage-proof and stackable Earth-friendly cooked food containers
The green stripe next to it says "compostable plants"
Appearance and Handfeel of High Performance Plastics without Petroleum Chemicals
Complying with ASTM Compostable Plastics standard
These wholesale food packaging products are for cold food only.
biodegradable food containers wholesale in malaysia
Malaysian Food Takeaway Container Food Takeaway Container Biodegradable Rectangular Bagasse Biodegradable Disposable Food Container Supplier Rapid Reaction 100% Biodegradable from Sugarcane Fiber, Biodegradable Disposable Food Container Compost and Organic Environment Biodegradable Disposable Food Container Sugarcane Food Container Biodegradable Disposable Overturned White Biodegradable, biodegradable, overturned sugarcane food containers Eco-products Biodegradable, compostable, disposable dishes, bowls and plates Manufacturer of sugarcane clamshell 100% compostable, one-time hinge, overturned sugarcane takeout food containers
Composable sugarcane food containers are made of naturally grown sugarcane, which can easily be naturally converted into simple, stable compounds and absorbed back into the ecosystem. This process takes only a few months to compost normally and does not introduce toxins into the environment.
Biodegradable products do not take long to decompose, but they depend on the material they are made of to determine the time required for decomposition. But it's faster than non-biodegradable products that take more than a hundred years to decompose. Biodegradable wastes are decomposed into soil-like substances or composts.
It becomes part of the environment and minimizes landfill problems and environmental protection. Just observe how branches and leaves degrade over time to understand biodegradation. Composting is a natural process of degradation of plant and animal materials and the return of nutrients to the soil.
biodegradable food containers wholesale india market
In daily life, packaging can protect food, preserve food, enhance food, display important information, act as a marketing tool and transport safely. Therefore, good food packaging must be considered in order to eliminate pollution and waste at the end of its "service life". To achieve this goal, Evirocor launched Oko packaging products in Bangalore, India, which has the environmental advantages of ready-to-eat food enterprises with which it cooperates. This is achieved through the intelligent design and manufacture of corrugated cardboard packaging and other environmentally friendly food packaging products in Bangalore, India.
Plastic pollution is one of the most important environmental problems we are facing today. It affects the environment, health and well-being. Although plastics have many valuable uses, we have relied excessively on disposable or disposable plastics – with serious environmental consequences.
The vast amount of plastic packaging we use escapes the collection system, which means that it eventually blockages our urban streets, pollutes our natural environment, leaks into our oceans, asphyxiates coral reefs and threatens vulnerable marine wildlife. Plastics are used in food packaging, which can pollute and destroy the environment in many unimaginable ways. In order to effectively combat the threat of plastic food packaging, every customer-consumer can insist on reusable, biodegradable food packaging.
HELP biodegradable food containers wholesale usa
In USA containers and packaging, you can find green wholesale biodegradable food storage, containers and packaging in bulk or separately here, but always at wholesale prices. ESCOO offers a full range of recyclable, compostable and biodegradable products at wholesale prices. If your restaurant or cafeteria needs recyclable, biodegradable, compostable bagasse trays, cups, bowls, tableware or personal paper products, we have numerous green options.